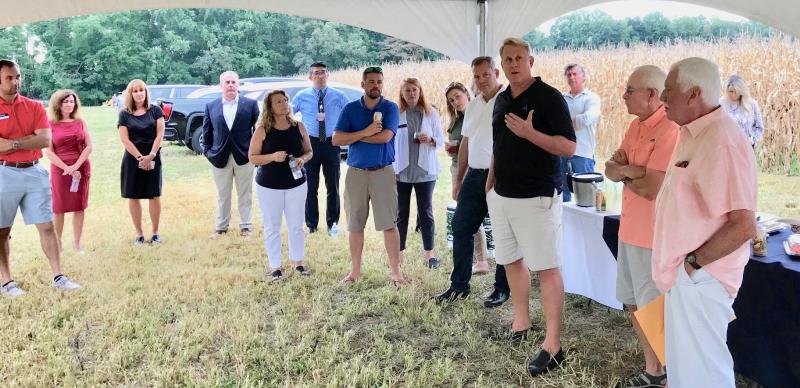 Ocean Atlantic Companies President Preston Schell talks about his company's commitment to the land trust during a mixer at the trust's Stephen R. Hudson Park. He and Craig Hudson formed the land trust 20 years ago.
By: Ron MacArthur
September 28, 2021

Sussex County Land Trust Chairman Casey Kenton said a Sept. 16 mixer at the new Stephen Hudson Park was a friend-raiser originally scheduled for last year.

The land trust, with funds from Sussex County, purchased a 30-acre tract from the Hudson family two years ago on the south side of the intersection of Cool Spring Road and Route 9 to build a Lewes-to-Georgetown Trailhead.
"This was the first event we've had at the site. We wanted to make people aware of the project we have planned there," Kenton said.

Kenton said the trust is still exploring the idea of a pedestrian-bicycle bridge over Route 9 to provide a safe crossing for users of the trail, which currently ends on the north side of the intersection, but will continue to Georgetown.

"It's a heavy lift and very costly, but we have all the right supporters behind it," he said.

Plans for the trailhead include a parking lot, restrooms and other amenities to support people on the trail.

Ocean Atlantic Companies President Preston Schell, one of the land trust founders 20 years ago, spoke about his company's commitment to SCLT. In December 2020, the company donated $152,800 to the trust using a percentage of lot sales from Covered Bridge Trails in Lewes and The Farm at Truitt Homestead in Rehoboth Beach.

Since the trust was formed in 2001, Sussex County officials have contributed $6.7 million, while land trust volunteers have raised $4 million in private donations to preserve more than 6,000 acres of land in the county.
Mark Carter, Dogfish Head Craft Brewing Beer and Benevolence director, talks about a new beer, In Tandem, brewed in collaboration with Revelation Craft Brewing Co., with partial sales proceeds being donated to the land trust.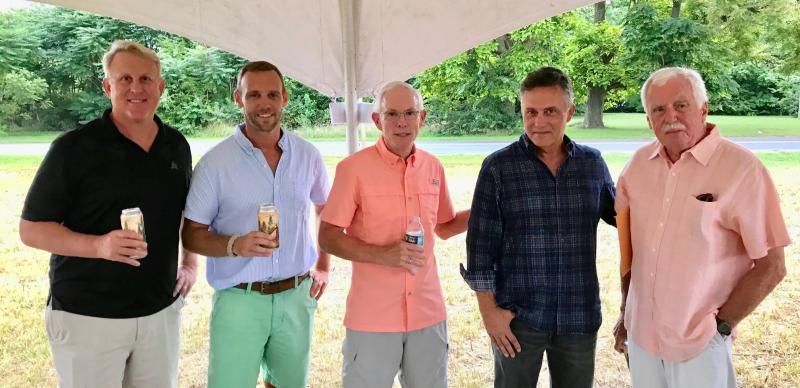 Taking part in the Sussex County Land Trust's friend-raiser are (l-r) Preston Schell, Ocean Atlantic Companies president; Casey Kenton, land trust chairman; John Schroeder, trustee; Mark Chura, executive director; and Jim Fuqua, trustee.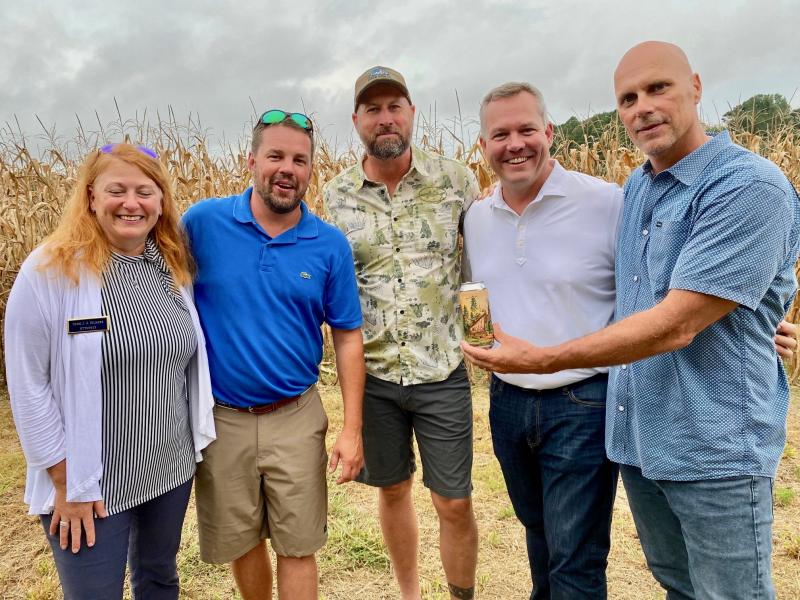 Gathered at the event are (l-r) Heidi Gilmore, SCLT trustee; Jason King, trustee; Mark Carter, Dogfish Head; Kevin Gilmore, Sussex County Habitat for Humanity executive director; and Mike Nally, trustee, holding a can of In Tandem beer, which will help raise funds for the trailhead project