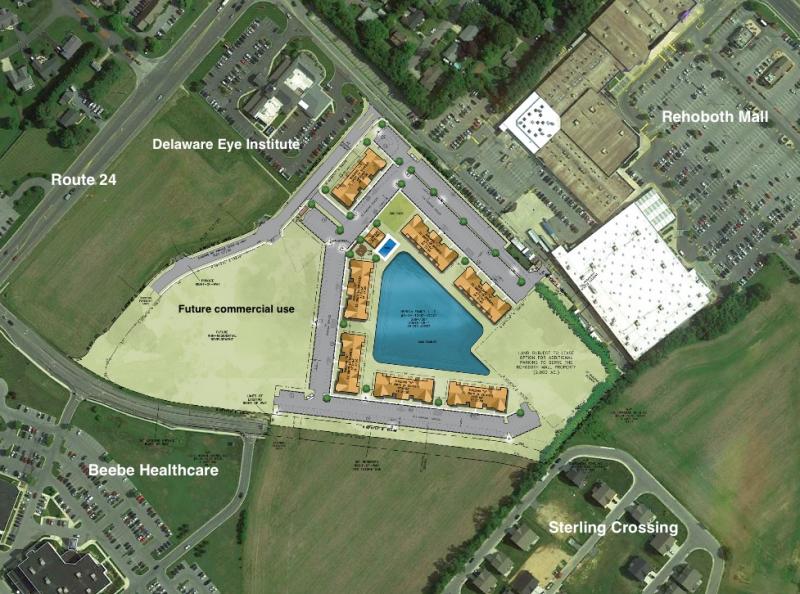 Developer to construct 224 units of workforce housing off Route 24 near Rehoboth
By: Ron MacArthur
January 31, 2020
With no opposition at a Jan. 28 public hearing, Sussex County Council unanimously approved a conditional-use application for a 224-unit apartment complex on 18 acres off Route 24 behind the Rehoboth Mall.

Jim Fuqua, attorney for developer OA-Rehoboth LLC, said the project will consist of seven buildings with 32 apartments in each building, with a density of 12 units per acre. A 4.7-acre section of the CR-1, commercial-residential, zoned parcel will be set aside for future commercial use.

Fuqua said the apartments will provide workforce housing in the resort area where that type of housing is needed. "There is an issue of affordable housing and particularly in eastern Sussex County. Many people can't afford to live where they work," he said.

"This is not low income and not discounted; it's market rents. I want to make that clear," said developer Preston Schell.

He said the apartments will be affordable to people making 81 to 89 percent of area median income, which is $72,100, according to Sussex County housing officials. Eighty-one percent of median would be $58,400 a year.

Schell said a person would have to make 150 percent – more than $100,000 annually – of area median income to afford a typical single-family home in the area. Housing officials say no more than 30 percent of income should be spent on housing.

Proposed monthly rents for the apartments are $1,095 for one-bedroom units, $1,395 for two-bedroom-units and $1,675 for three-bedroom units, Fuqua said.

Schell said his company's two other apartment projects – Beach Plum Dunes in Lewes and Carillon Woods in Long Neck – have no vacancies. "They are immediately leased as soon as units are available," he said.